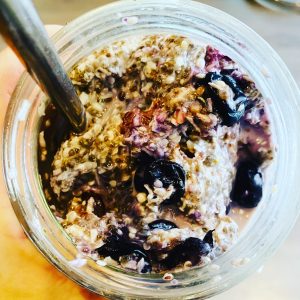 A Superfood Situation
This overnight oats recipe is So. Dam. Delish. This take on overnight oats is a serious game changer. It literally requires zero culinary skills, takes 3 minutes to make with basic pantry essentials. (If chia and hemp seeds are not part of your regular, it is time to add them, find out why you NEED them in your diet)
We all struggle with what to eat in the am and this one checks all the Nourished boxes. It is protein rich and high in fiber—thank you chia and hemp seeds; has a healthy dose of omega 3 essential fatty acids—chia strikes again; is loaded in antioxidants—we love you bluberries; stabalizes blood sugars—hello cinnamon; is gluten-free and is so absolutely tasty, hearty and soul satisfying.
This is one of those meals that just feels good eating. Listen up those who are used to eating really sweet things in the am, this is not an ideal way to set up your day. There is no sugar added so you might need to give it a couple tries to get your palette adjusted.
My kids like it with just a smidge of maple syrup and that is ok too. I ease off on the oats as I find that eating oats makes me feel really full, slow and sluggish, a feeling I do not like. So I bulk this up with chia and hemp and I absolutley love how these sensational superfood seeds make me feel. And that's what we are all looking for right, to start our day feeling fabulous.
Need focused help building healthy habits for life without feeling lost all the time? Work with me.
Follow me on Instagram, Pinterest and LinkedIn for more easy, fun recipes and wellness tid bits!
Ingredients
1/3

cup

hemp Seeds

1/3

cup

chia Seeds

1/3

cup

coconut flakes

unsweetened

1

tbsp

cinnamon

1

tbsp

rolled oats

1

tsp

fav unsweetened dried fruit (cherries, raisins, cranberries)

1

cup

frozen blueberries

(fresh works too, I find frozen has more flavour in here)

1-1.5

cups

plant milk

1-2

tblp

fav nuts & seeds: sliced almonds, crushed pecans or walnuts, pumpkin seeds
Instructions
Take a 1/2 litre or 500 ml glass jar (medium maison jar) and layer hemp, chia, coconut flakes, cinnamon, oats, dried fruit and cover tighly.

Give all dry ingredients a nice shake so mixed evenly.

Give it another lil shake.

Slowly add milk and let it seep down. Use a spoon to form a tunnel to help milk get to bottom of jar.

Once milk is at top of jar, cover and refrigerate.

After about 3 hours, it is ready to eat.

Dish it into a bowl or eat out of jar. (1/2 jar is the perfect serving size.) Add nuts and seeds before eating so they don't get soggy.
Loved this Overnight Oats Recipe?
Check out more amazing gluten-free breakfast recipes right over here or down below.
Alternatives to Overnight Oats for Breakfast
Meal Prep these easy, Vegan Breakfast Bites for a week's worth of breakfast!
Love chugging a tasty, green smoothie with all your vitamins in one go? Try these plant-based smoothies!
Coconut Blueberry Bliss Smoothie
Craving something savoury for breakfast? I got some recipes right below
Save this overnight oats recipe to your Breakfast and Snack Boards on your Pinterest for meal prep days.