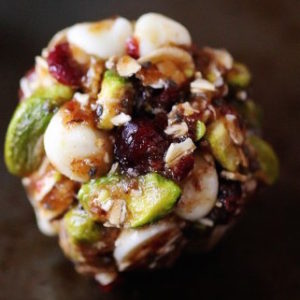 Superyum Energy Bites
OK, so besides a daily smoothie, where do I ever get to have all three of my favourite nutrient dense seeds—chia, hemp, flax—in the same bite as well as my all time favourite antioxidants—dried organic cranberries and dark chocolate? These high fibre, high protein, gluten-free superfood snacks are seriously the most delicious power nuggets that keep you and your kiddies energy levels up. They are a sweet treat for sure.
Ingredients
1

cup

Packed chopped dates

1/3

cups

Mix of honey and water

1

tbsp

Chia seeds

1

tbsp

Ground flax seeds

1

tbsp

Hemp seeds

1

pinch

Salt

1 1/2

cups

Old-fashioned oats

dry

1

cup

Pistachios

shelled

1

cup

Organic cranberries

dried

1/3

cups

Dark chocolate chips

1

tsp

Vanilla extract

Cinnamon

Shredded coconut

optional
Instructions
Combine pitted dates, honey, salt, chia, hemp and flax seeds in a food processor and pulse until smooth and combined. You should be able to stir the mixture—if it is too thick, add in a little water. Add pistachio and blend a couple more seconds.

Transfer to large bowl, stir in the oats, cinnamon, vanilla, dried cranberries and dark chocolate chips until evenly combined. Cover and refrigerate for at least 30 minutes.

Once the mixture is cool take a small amount and roll into balls—1-inch diameter makes them easily popable in mouth. If you like coconut, roll balls in shredded coconut.

Store covered in the refrigerator for up to 1 week.