Mixed Herb Southwestern Quinoa Bowl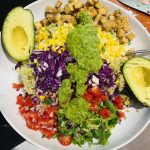 Full flavour, plant powered, easy to assemble and ridiculously delish, this dish hits all the Nourished marks. Leafy greens, healthy fats and clean proteins come together in a beautiful one bowl wonder. Even yummier leftover. Don't be afraid of the lengthy list, I swear it is worth it.
2 packages extra firm tofu (diced into cubes)
2 tbsp olive oil
1 tsp garlic powder
1 tsp onion powder
1 tsp cumin
1/2 tsp cayenne
1.5 cups quinoa
For the Vinaigrette
1 shallot (small)
2 cups fave herb; cilantro, basil, parsley or mix of all (with stems)
1 clove garlic
2 tbsp apple cider vinegar
1/2 cup olive oil
1 tsp salt
For the toppings … add all or pick and choose
1 cup black beans (cooked and drained)
1 cup corn, grilled if you wish
1 cup purple cabbage (shredded)
1 cup romaine (shredded)
1 cup tomatoes (diced)
1 Avocado (halved and diced)
Garnish
4-5 green onions; or 1/2 red onion (chopped)
5 leaf and stems of herb of choice
1 lime (halved)
Preheat over to 350.
Marinate tofu in olive oil and spices. Let sit at least 10 minutes and then spread out on parchment paper and roast until golden. About 20 minutes.
Cook quinoa according to package. Let sit then fluff.
Add all vinaigrette ingredients (save a couple herb stems and leafs and chop as a garnish) to a high speed blender and blend till smooth.
Add quinoa to serving bowl and add half dressing and mix. Add baked tofu and your choice of toppings. Fold in a bit more dressing and toss lightly. Salt and pepper to taste.
Garnish with chopped green onions, chopped herbs and squeeze of lime