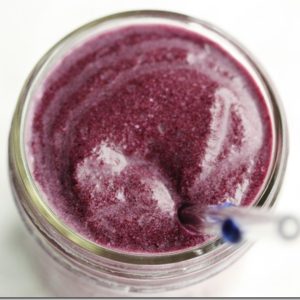 Coconut Blueberry Bliss
This is the ultimate fat burner, metabolism booster, energy kickstart, skin supplement and libido enhancer. Plus, I love the flavour of this creamy blue sipper. Loaded in antioxidants, protein, Omega 3s, good fats, this smoothie also get your greens in and is a killer way to start your day. No sugar, no caffeine, no dairy!
Ingredients
2

cups

Blueberries

frozen or fresh

1/2

cups

Coconut

dried, shredded unsweetened and sulphite free

1

tsp

Coconut oil

organic and unrefined

1

tbsp

Maca powder

1

cups

Almond or hemp seed milk

or a mix of both

1 1/2

cups

Coconut or regular water

2

Dates

pitted and soaked, if possible

2

tbsp

Chia seeds

1

tbsp

Hemp seeds

1

handful

Spinach or other leafy greens

1-2

dashes

Cinnamon
Instructions
Blend all ingredients together in a high speed blender. Enjoy.
Notes
*NOTE on soaked dates: Pre-soaking dates over night makes them easier to blend bringing the full sweetness out of these healthy jewels. I keep soaked dates in my fridge all week so I have them when I am in a pinch and need some sweetness to add to my smoothies.
*NOTE: Ancient Peruvian superfood, MACA Powder can have expresso like effects. Start with a small dose. But this root has been used by Peruvian women for 1000's of years to boost the libido, help with fertility and cure PMS. I love the stuff!!