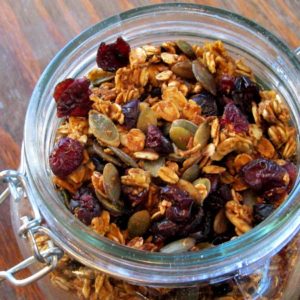 Pumpkin Spice Granola
This is easy. Don't let the long ingredients scare you. Just think of all the fall flavour you are packing in, not to mention the crazy amount of goodness—Omega's, Protein, Zinc, Fiber, Calcium—you are eating. This is a perfect quick breakfast if you are craving something sweeter or an awesome energy boosting snack.
Ingredients
6

cups

Rolled oats

1

cups

Raw sunflower seeds

1

cups

Raw pumpkin seeds

1

cups

Hemp seeds

1/2

cups

Chia seeds

1

cups

Unsweetened shredded coconut

1

cups

Raw slivered almonds

1/2

cups

Halved pecans

1/2

cups

Walnut pieces

1/3

cups

Sesame seeds

1/2

tsp

Nutmeg

1

tbsp

Cinnamon

1/2

cups

Honey

1/3

cups

Pure maple syrup

1

cups

Organic unrefined coconut oil

2

tsp

Pure vanilla extract

1

cups

Dried raisins, cherries, or cranberries
Instructions
Preheat the oven to 250°F. Line 2 rimmed baking sheets with parchment paper. Set aside.

In a large bowl, mix all dry ingredients.

In a medium bowl, combine the wet ingredients.

Combine the wet and dry ingredients and stir until evenly coated.

Spread onto the baking sheets.

Bake for about 1 ½ hours, stirring every twice for even toasting, until pale brown.

After the second stir, add in the dried cranberries.

Do not let the granola get too brown as cooks as it cools. Let it cool completely and store it in sealed container.