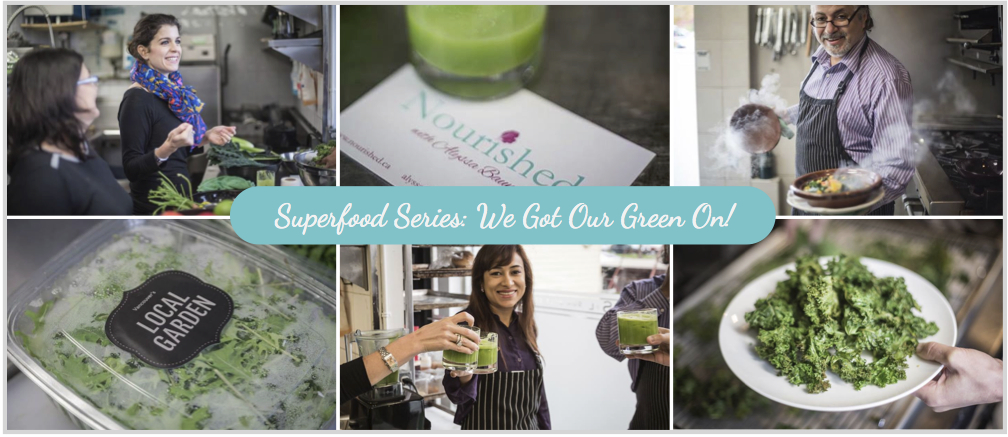 This past Wednesday I had a magical culinary adventure right here in Vancouver. Six levels up a long and winding parking lot on Richards Street I found the Local Garden, a full-on enclosed organic greenery. The drive up had me weary, very doubtful of where I was going and what I was doing, but when there was not another ramp up, I stopped in wonderment. Seriously, I stepped inside the white tented greenery and was greeted with thousands of organic green leafies growing vertically in trays. I was here to pick up the freshest, most local greens chef could find. I brought the cases of living micro greens, baby kale, mustards and arugula into the kitchen at Sol Sun Belt Cookery where Chef Abdel Elatouabi and I set out on a nutritional cooking mission.
Greens are the #1 missing food from our diets … and the #1 most important food for health. Greens are loaded in vitamin A, C, K, E, calcium, iron, protein, magnesium, fiber. They are my answer to pretty much everything. Can't sleep? Eat more greens. Depressed? Anxious? You need more of my magical elixer. Sugar Blues? Eat more kale. Hence the term superfood.
At our first Superfood Series last Wednesday, our mission was to incorporate greens into every meal. "How?" Our guests—who were in the kitchen apron-clad, knife baring and ready to learn—asked.
GOGO JUICE: Refreshing and cleansing. The entire pitcher was cheered down. Drink to your health never had such a literal interpretation.
CRISPY KALE CHIPS: "They taste naughty," one said. That they did, but as a hollistic nutritionist I don't usually think in those terms, but she nailed it perfectly and taught me a new perspective on what a salty crisp means to some.
BABY KALE SALAD: Pumpkin seeds, peppers, cucumbers and living baby arugula drizzled with chef's sweet and exotic rose-infused dressing. Fresh and sweet, we were eating and talking and playing.
KALE FRITTATA: "This is how we do it," chef led guests through his kitchen, teaching them the art of frittata. 2 organic eggs, a crazy amount of Tuscan kale topped with arugula salad dressed by Alyssa and her favourite simple vinaigrette.
Look how easy it is to incorporate greens into our every day—we have done a smoothie, a snack, a lunch, a breakfast. Next on to dinner. By this time, we were all very well fed but the food kept flowing. Chef and I loved the comments; "I am so full, but I this is so good;" "I never knew eating healthy was this delicious and so fun;" I should feel full I have eaten so much, but I'm energized, excited. I'm charged."
KALE SAUTEE: Next up was tagine, a classic Moroccan dish. Instead of lamb or chicken, can you guess what we did. Yup, Kale. Chickpeas. Figs Apricots. Peppers. Sol's signature house spices. That's it. When Chef asked for orange juice, he was brought an orange and a juicer. "There is no stock or bottled juices in Moroccan cooking," he explained, "everything is fresh." Fear not, here's his coveted recipe with the Nourished Twist.
A big thank you to Kris Krug and his amazing photographs and appetite for fun.
Healthy cooking is easy. Learn how now…
Superfood Series take place on certain Wednesdays from 10am-12pm. Come hungry. Join us for our next Superfood Series:
Jan 8, 2014: New Year, New You: Learn how to make this year your healthiest by incorporating these healthy foods.
Feb 19, 2014: Eat Your Way Healthy: Anti-Inflammatory Foods To Fight Disease
Apr 3, 2014: Superseeds, Super You: Eat more Flax, Chia, Hemp, Quinoa
Email alyssa@nourished.ca; or info@solsunbelt.com for more info and to book.
Space is limited so book now.
It's the perfect gift—for the foodie, the cook, the health enthusiast, the kitchen adventure seeker. Give health this year. Who doesn't want that?
But all 3 for $70. It's a crazy deal.