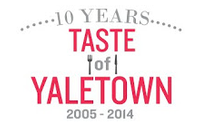 TASTE OF YALETOWN celebrates 10 years of afforadable Yaletown yumminess. is October 16-30 this year and is a fun way to hit some of Yaletown's restaurants without overspending. 3-course dinners run anywhere between $25-$45. (without tip, tax and drinks.) Of course eating home is always healthiest, but sometimes we just need to get dressed up and go out.
Here's my Nourished-Approved hit list of where to go and what to get.
Bistro Sakana:  This spot is my sushi staple. I'm here at least once a month. Their TATSE OF YALETOWN  menu offers a sampling of fun and inventive sushi rolls but make sure to keep the fried, mayo-laden ones to a just a tasting. The Wild Aburi Sockeye is divine; make sure to ask for it on brown rice.
Brix; It's a cozy, candlelit classic Yaletown mainstay. Start with the Local Autumn Squash Puree and follow with the wild salmon. Finish with a couple spoons of the sorbet and ask them to hold the mint syrup.
The New Oxford: Pub Food gets the total Nourished Makeover. Loving their organic carrot and apple soup. It's even finished with pumpkin seeds. OK, I seriously need that recipe. Follow with the salmon, cooked to perfection. Hold the potatoes, sorry. But ask for extra kale instead. You will thank me, I know!
West Oak: This modern, yet rustic rooms serves as local and free range as possible. Both their TASTE OF YALETOWN appetizers are Nourished approved. Depends on what you are feeling: Seasonal cauliflower soup finished with lux truffles, or the classic beet and goat cheese salad. For your entree, the sablefish is sweet and savoury. Hold the butter sauce please.
Yaletown L'Antipasta: Chef cooks and plates in a tiny kitchen behind the bar serving big regional classic Italian. Start with the tuna, then the salad. Enjoy half the Spaghetti alla Vongole and pack the other half for lunch tomorrow. Of course pasta insn't exactly as Nourished as I'd like, but as my husband says "sometimes you need some pasta." Occasionally they carry whole wheat pasta. Make sure to ask for it.