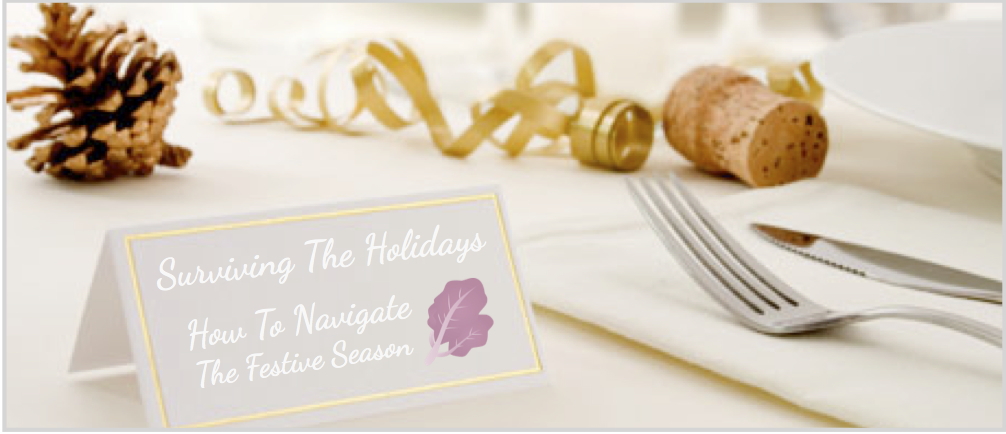 Holiday season is here. Meaning lots of festivities. Enough to tire out body and soul if you aren't taking care of yourself during all the celebration. Yes, you can do both—take care of you and celebrate. The holidays are about family, friends and re-filling our hearts with love and gratitude. It's about traditions that give joy, warmth and giving. And yes, it's about feeling your most radiant, most fulfilled self.
So how do you do that? By feeding your insides with all of the surrounding love while fueling your outsides with healthy, whole foods. Yes, I have loads of healthy recipes to share. But fill what ever void you may have by overindulging in more heart-felt conversations, gratitude, family, fun and watching the joy just unfold. Yes, every family has their issues, but overindulging in another drink, another slice and yet another eggnog won't help you feel your best. Just the opposite actually.
Empower yourself by loving yourself up.
Here's our essential Holiday hitlist to make this your healthiest holiday yet and keep you glowing, gracious and guilt-free this crazy holiday season.
DO
Eat Slowly; Practice Mindful eating.

 Its a sad thing when I hear a client tell me that they indulged in their fave indulgence and "didn't even taste it" because they were beating themselves for eating the treat before they even finished it. Don't fall into that trap. Make it a conscious indulgence, eat slowly, enjoy every bite and remember every meal is a Monday morning. Make the next thing to hit your lips uber healthy. 

Slow down by using a plate and real napkin. Do not take a nibble while texting, hailing a taxi, watching TV, chatting on the phone or opening up your mail. Be present and in the moment. After all, the seasons change quickly.
Focus on the company, conversation and the meaning of the holiday.
Eat before dinner: My green Go-Go juice and a salad will do perfectly.
Bring a dish … My Pumpkin Hummus is the perfect protein-packed appetizer; quinoa endive cups; or my all time favourite sweet treat. Your hosts will be blown away. (Plus you know it's healthy so you can eat it!)
Fill your plate with leafy greens.
Choose Right. Choose vegetables as much as possible and skip the peanuts, chips etc.
Pick healthy holiday faves like Turkey (hopefully free-range; if not organic), sweet potatoes and roasted vegetables.
Eat, but not too much.  Enough, not until full. It's called the 80-20 rule.
Opt for a hot water with lemon after dinner. This helps with digestion and helps flush all those toxins out.
Grant yourself permission to induldge! Eating foods just for the sake of pleasure, in a conscious and deliberate way, is all part of healthy eating and will not zap your healthy diet. Deprivation doesn't ever work.
DON'T
Shove it all in rushing your every bite.
Over focus on the food.
Show up starving. You will, no doubt, over eat and end up eating all the wrong foods.
Pile your plate with mountains of food.
Eat just cause it's there. Munch on pre-dinner snacks like chips and cheese or little desserts lingering.
Over indulge in casseroles (usually loaded with hidden fats), stuffing and mashed potatoes smothered in gravy. I just get ill thinking of all that starchy food on one plate. Choose your favourite or take a sample of each.
Eat until you are so full you are sick. I can't think of a worse feeling.
Continue to drink after a huge dinner. I know, way to ruin the party, but alcohol totally hinders with digestion.
Eat huge a big slice of each, unless you just want to be rolled out.