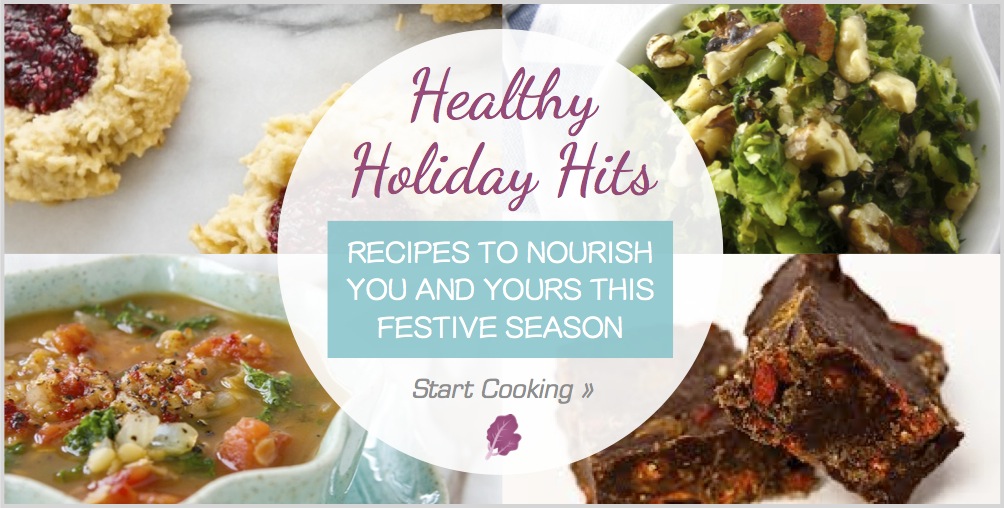 Here it is. What we have been planning. The healthiest holiday yet. What are you hosting? You bring the party, I've got the menu. From Eve to Day of to breakfast and beverages, make this holiday season your healthiest yet. No guilt, no holiday weight gain, a more Nourished you
Whole food + simple ingredients + easy prep = amazing flavours.       This is how food should taste.
Eating with your most precious peeps all together with (hopefully) meaningful and engaging conversation and a well-lit ambiance, these menu items will make you feel good, excited, energized, happy and inspired. The way food should make you feel.
Follow dinner with a brisk walk hand-and-hand; maybe a sleigh ride. Enjoy your moments.
Here is the order in which I would serve my holiday eats.
NIBBLES:
SALADS: All these are amazing sides as well.
MAINS/SIDES: I say this because these are meals in themselves.
SWEETS: Every single one of these desserts are not only guilt free, but they are healthy … some even superfood healthy. None have refined sugars.
BREAKFASTS or also great as midnight snacks …
Eat, Drink, and Dance. Let me know what you liked and what was a hit here. I am as always, so grateful, for you … so have a very merry merry.