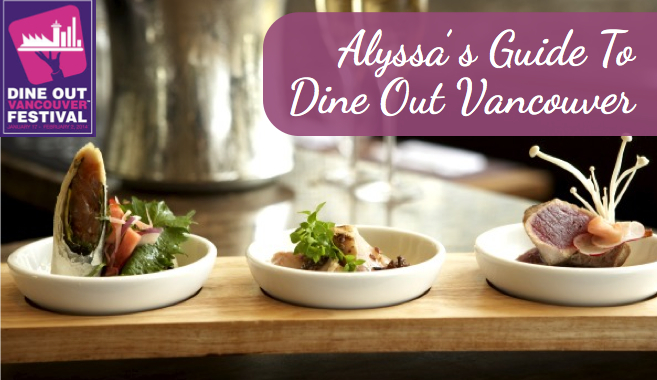 Dine Out Vancouver (Jan. 17-Feb. 2) is a great way to sample the city's amazing culinary scene without breaking the bank and now with this Nourished hit list you can do it without straying from your Nourished healthy eating plan. Yes, you can indulge and stay Nourished too at these healthy hot spots. I've listed Nourished-approved menu items.
NOTE: Only independent restaurants using finest quality foods have been selected.
1. Bambudda: This dark and sexy gastown boite is for those in-the-know.
START: Asian carrot salad
FOLLOW: Tuna in a savoury, smokey broth
SWEET: Just a bite of the permission pudding, yes you have permission.
2. Baru: I love the latin-fused flair of this Kitts hideaway.
START: You can never go wrong with the ceviche here—fresh and fabulous.
FOLLOW: Halibut and green beans done with some of my favourite root veggies, sweet cassava.
SWEET: A little Flan never hurt anyone.

 
3. Chutney Villa: This cozy Broadway Indian spot highlights south Indian cuisine. They are heavy on healthy spices like turmeric, ginger and coriander and light on oil. So already a Nourished staple. Go Veggie here as they do it so well.
START: Steamed Ling Cod, delicate and light, is the perfect opener.
FOLOW: Love the creamy Eggplant curry, a delicacy here.
SWEET: Just a spoonful of mango ice cream to cleanse the palate.
4. Cibo: Rustic Italian Food at this discreet and intimate downtown charmer.
START: Arugula salad with pomegranate (hello NOURISHED).
FOLLOW: Steelhead trout with sunchokes and rapini. Take me to Italy now.
SWEET: Opt for a hot water with lemon to end this fine night with. Desserts will put you over the edge!
5. Clough Club:  Cocktails get serious at this sultry little lounge, but the food is equally up to par.
START: Butternut Squash Soup.
FOLLOW: Coho Salmon (my all time fav) served with red quinoa. This dish is a pretty one. Ask server to skip the butter. We want to load up on healthy fats and this salmon is so divine, best to keep it as clean as possible. Added saturated fat is not a necessity.
SWEET: Baileys Mouse and dark chocolate fondue. How can I not say go ahead and have a bite of the dark chocolate. It's loaded in antioxidants.
6. Forage: Tucked smack in the middle of Robson Street in the newly freshened Listel Hotel, Forage is all artisan, all local, all sustainable and all delicious.
START: Grilled Kale Salad … I have tried to duplicate this at home. Impossible and since I am the kale queen, this is the Nourished 2014 Dine Out Vancouver pick. So go a little crazy and order 2, one for me!
FOLLOW: Spring Salmon with leeks and celery root … another pair of fave winter veggies.
SWEET: A little blueberry hazelnut love.
7. Sol Sun Belt Cookery: All I can say is that I am proud and honoured to have had my hand in this kitchen 'Nourishing up' the menu—look for the Nourished signature pink Kale Leaf. Together, chef and I give our Nourish + Sol: Superfood Series on participating Wednesdays. So I know everything churned out in this kitchen is made with only the finest, freshest ingredients.
START: Either the Vegan Antipasto (smoothest hummus ever) or the traditional Moroccan soup are high on the veggie count. Hello Nourished.
FOLLOW: Chickpea and Kale Tagine. Perfectly cooked chickpeas smothered in tumeric, saffron and ginger sweetened just so with figs and a splash of fresh OJ. I love this dish so much I it is featured on my recipe page and it is included in our Nourish + Sol: Superfood Series: Get Your Green on. (We have more room and the next one is Feb.19 @ 10 am)
SWEET: Stay on track and go for the Roasted Apple with cinnamon sorbet,
8. Rocky Mountain Flatbread. It's super kid friendly, so a mainstay in my family. But unlike most other kiddie spots, there is are no nasty mass produced chicken fingers here. Only local, organic salads, pizzas and pastas made with free-range, nitrate-free meats. My kids are happy and I'm even happier knowing it's all healthy.
START: Can't go wrong with any one of their daily soups…usually veggie based, but make sure to ask if they snuck any cream in; or my favourite Fig-and-Goat Cheese Salad.
FOLLOW: Pizzas are great and the gluten-free crust is just as good.
SWEET: A lil teaser of brownie works, but just a bite.
NOTE: Go off menu and ask for the sundried tomato hummus. Skip the flat bread and ask for a side of veggies.
Runners up. I love these restaurants, but the Dine Out menus were just not Nourished enough.
I love the Pourhouse. This hopping Gastown staple makes an amazing cauliflower steak over black lentils … (Something they finely call black lentil caviar) but most unfortunate, it isn't on the Dine out Menu. But who says a girl can't go off menu once and awhile! Ask and you shall receive. You never know.
Raw Canvas: Maybe not the place to eat as meat and cheese aren't really a Nourished thing, but freedom of expression is. So stop in here with a friend or love and enjoy a glass of wine and let your inner spirit be unleashed while you make some great art.
Bistro Sakana: Another Nourished Staple for sushi. The Dine Out menu was a bit too creamy, too rich, too saucy. Non-Dine Out stand outs include brown rice sushi; tuna and avocado crepes; sockeye salmon Aburri with brown rice of course.