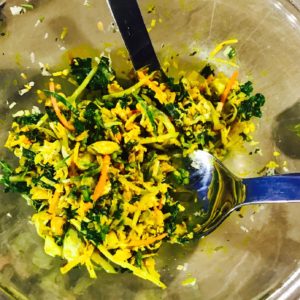 Antioxidant Power Slaw
So this dish hits all the marks in my book. Taste, flavour, crunch and health benefits galore. I use Mann's Power Blend. It has the superfood bang on with its mix of shredded cabbage, carrots, broccoli, kale, kohlrabi and brussels sprouts. Combined with the healing potential of turmeric, this is the perfect anti-inflammatory, anti-aging and anti-oxidant dish. Add hemp seeds or a fried egg on top and you have yourself a delicious, healthy yet super simple main. Eat up. Learn the power of plant protein over here.
Do you need focused help and a healthy transformation for you and your family? Work with me.
Check out more grain-free and dairy-free nourishing salads here.
Follow me on Instagram, Pinterest and LinkedIn for more easy, fun recipes and wellness tidbits!
This antioxidant power slaw goes great with these salad dressings.
Ingredients
2

tbsp

Coconut oil

2

tbsp

Turmeric

Salt and Pepper

to taste

1

dash

Red chili flakes

1

tsp

Mann's power blend yellow mustard seeds

1

Red pepper

sliced

1/2

cups

Almonds

crushed

1/2

cups

Coconut

shredded

1/2

cups

Cilantro

chopped

Juice of one lime
Instructions
Combine Mann's Power Blend and red bell pepper strips in a large bowl and set aside.

Combine the crushed almonds, coconut, cilantro and lime juice in a bowl and set aside.

In a small saute pan, heat the canola oil until the oil shimmers. Add the mustard seeds and cover the pan until the seeds stop popping – about 30 seconds.

Remove the pan from the heat and add the fresh turmeric and salt. Stir.

Pour the mustard seed and turmeric oil over the coleslaw mixture and toss to combine.

Add the almond and coconut mixture and toss again.

Taste and adjust seasonings and serve!