Creamy Rose Pasta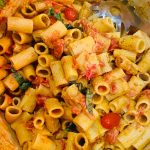 Love the cheesy flavour, but not the cheese? Me too. That's why I love this dairy-free pasta. It is creamy, rich and luxurious, comforting and packs in a huge nutrient punch. It is easy to make and can be done pretty quickly. Cashew nuts blend easily into a velvety sauce adding layers of flavour and satisfaction. I like this sauce with gluten free rigatoni or chic pea shells, but really any pasta will work. Serve this with huge green salad.
1 Cup Olive Oil
6 Cups Cherry tomatoes
2 red peppers, sliced thinly
4 Cloves Garlic (sliced)
1 Cup Cashews (Soaked for at least 15 minutes)
1 Large roasted red pepper from jar
2 TBSL Nutritional Yeast
2 TSP Sea Salt
2 large roasted red peppers (from a glass jar. Different then tomato mixture above.)
1/2 Cup Basil, torn
1 Package Gluten Free Pasta
Preheat oven to 425.

Coat tomatoes and peppers with 3 TBLS of olive oil, half the garlic and salt. Mix well.

Spread on baking sheet and roast for 30 or so minutes until tomatoes and peppers are blistering and browning. Remove from oven and keep all juices and seeds.

Drain cashews. Ditch the water

Add cashews, roasted red peppers, nutritional yeast, salt, 1/3 cup water and rest of olive oil to blender and blend until smooth.

In a large pot, salt water and boil for pasta. Once boiled, add pasta.

Once pasta is done, drain but make sure to reserve a lil bit of pasta water just in case.

Add pasta back to pot, add tomatoes and peppers, salt, pepper and pour sauce slowly to coat. Don't add all sauce. If you want more, you can add later.

Add basil and mix. Salt and pepper to taste.

Left over sauce is easily frozen to use again.