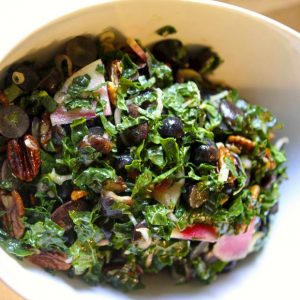 Winter Kale Salad
More kale, I know. How could I not include this on the holiday menu. I mean, it is really is my all time go-to so clearly this salad is a winter love around my house. I could take or leave the rest of the holiday meal. Kale, my glorious green, is loaded Vitamin A, C. K, E, fiber, magnesium, calcium, protein. On looks alone, this is the perfect holiday salad. The bright green of the kale against splashes of fuscia from the radish is festive just as it is fabulous for your health. Each ingredient with it's distinct flavour blends together for that perfect combination that is just a wow in each biteful. And what's even better, this is one holiday leftover that gets better with time.
Ingredients
1 1/2

bunches

Green kale

destemmed and chopped

1

Large radish

thinly sliced and quartered

1

Small shallot

thinly sliced

2

cups

Black grapes

sliced in half

1

cups

Pecans

dusted withe salt and cayenne and toasted for 5 minutes

1

cups

Cooked black beans

1/4

cups

Fresh squeezed orange juice

3

tbsp

Fresh lemon juice

2

tbsp

Champagne vinegar

Salt and pepper

to taste

1

heaping tbsp

Fresh thyme leaves

1/2

cups

Olive oil

1/2

Lemon

before serving
Instructions
Preheat oven to 375F and toss pecans with salt and cayenne. Toast for 5 minutes and then let cool.

Then in a large bowl combine the kale, radishes, shallots, grapes, spiced nuts, beans. Whisk all ingredients of dressing together and toss ½ cup of the dressing into the salad. Let the salad sit for a minimum of 30 minutes before serving. The kale soaks up the flavour of the dressing just so lovely. 

When just about to serve, squeeze the juice of a half of a lemon over the salad and toss one more time. It really brightens up the flavour of the salad. Enjoy … Oh my yum… and let me know please!