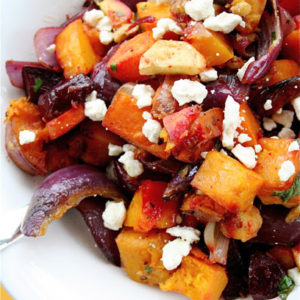 Warm Winter Salad
The mixture of colors, textures, earthy flavors with the tang and saltiness of feta….I could seriously eat this amazing and antioxidant-punched side as a healthy meal everyday.
Ingredients
1

Red onion

cut into 1/2 inch wedges

1

Sweet potato

cut into 1 inch pieces

1

Carrot

cut into 3/4 inch rounds

1

Celery root

cubed

1

Butternut squash

cubed

1

Small beet cubed

3

tbsp

Olive oil

extra virgin

1/4

cups

Walnuts

1 1/2

tsp

Balsamic vinegar

1 1/2

tsp

Fresh lemon juice

1/2

tsp

Dijon mustard

2

tbsp

Flat leaf parsley

1/4

cups

Feta cheese

crumbled
Instructions
Preheat the oven to 425 degrees.

In a roasting pan, toss the onion, sweet potato, carrot, parsnip, celery root (and/or butternut squash), and beet with two tablespoons of the olive oil.

Season the vegetables with salt and pepper and roast for about 45 minutes, stirring once or twice, or until tender and lightly browned in spots.

Meanwhile, spread the walnuts in a nonstick skillet and toast over medium heat until fragrant and lightly toasted, about 6 minutes.

Once the walnuts have cooled, coarsely chop and set them aside.

In a large bowl, whisk together the lemon juice, balsamic vinegar, mustard, and the remaining tablespoon of olive oil and fold in the parsley.

Season with salt and pepper.

Add the vegetables and the walnuts to the dressing and toss.