Thai Curry Soup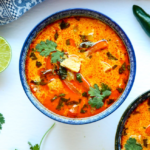 Don't let the long ingredient list scare you. The majority of it you should have, and if not buy double so you will have for the next time you make this soup (tomorrow, it's that good.) I love the soup for the clean and subtle lime and cilantro flavours. Loaded in healthy fats—the fats that makes us skinny—and greens, this soup is an easy weekday dinner.
2 14 OZ cans coconut milk
1 tbsp Thai red curry paste
2 Chicken breasts or 1package extra firm tofu, cubed
2 cups Bone broth or veggie broth
1 handful Bean sprouts
2 stalks Lemon grass
2 Limes (zest and juice)
1 thumb Ginger
1 Carrot (shredded)
2 Kefir lime leaves
1 bunch Cilantro roots
1 box Brown rice noodles
1 bunch Cilantro leaves
2 Green onions (sliced)
1 handful Leafy greens
1 dash Soy sauce
2 tbsp Fish sauce, omit of vegan
Scoop the thick coconut cream from the top one cans into a large stockpot set over a medium-high heat. Melt the cream, add the curry paste and stir for a few minutes until they begin to sizzle.

Add the cilantro roots and chicken (or tofu) and sauté until the chicken is cooked through (or tofu seems nicely cooked), about 5 minutes.

Add the coconut milk from both cans along with the bone broth, carrot, lime leaves, lemon grass, fish sauce and lime zest and juice. Grate the frozen ginger into it. Simmer for 20 minutes or so.

Stir in the bean sprouts. Add the rice noodles, gently pushing them beneath the surface of the broth. Turn off the heat and let stand until the noodles soften, about 5 minutes. Rice noodles don't need to cook like pasta; they just need to rehydrate in hot liquid.

Remove the lemon grass stalks and Kefir lime leaves.

Stir in most of the cilantro leaves. Taste and season with soy sauce as needed. Ladle into large bowls and garnish with the green onions, leafy greens and remaining cilantro leaves.