Tahini Miso Dressing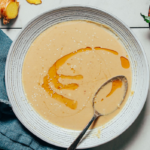 This thick and creamy salad dressing/marinade, sauce is another all time fav of mine especially when I am feeling like a little bit of luxury. The miso tahini mix is like velvet on to the taste. Healthy fats and a crazy load of flavour satiate the palette and keep cravings at a minimum.
2 tbsp White miso
1 tbsp Fresh ginger (minced)
1 pinch Crushed red pepper flakes
1 tbsp Low-sodium soy sauce
1/4 cups Rice vinegar
1 tbsp Toasted sesame oil
2 Scallions (minced, white and light green parts only)
1 1/2 tbsp Pure maple syrup
1 tbsp Tahini
Add all to a blender and blend until smooth.

Drizzle on your salads, bowls or even marinate fish or chicken.

Yum.