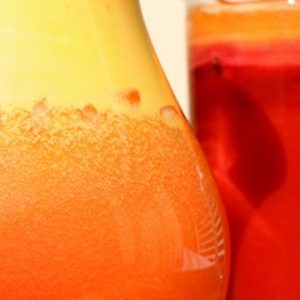 Sweet C Juice
Sweet and tangy, this intense juice is full of powerful anti-oxidants that can lower your risk of so many of the crazy issues that plague us today— heart disease, cancer, diabetes-related damage. It so full of goodness, it may even slow down the body's natural aging process. It's a super anti-oxidant boost loaded in Vitamin C, iron and crazy flavonoids! Not to mention, it gives you crazy glowing skin.
Ingredients
1

Orange

peeled

1/2

Lemon

peeled

2

Large carrots

1

Big wedge of pineapple

1

Small beet
Instructions
Juice all ingredients. Drink cold, ASAP.

If you are looking to mellow out this intense flavour, you can always press a half of cucumber thru the juicer.