Superfood Fudge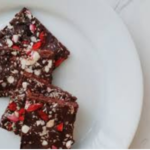 So once you eat these, you won't buy store bought chocolate bars again. Raw cacao powder has more antioxidants than pretty much any other food. Ounce for ounce raw cocoa powder beats out any berry. Not to mention a chemical called Anandamide, a bliss chemical that makes us feel good. Add in the powerful nutrient and amino acid dense goji berry and healthy fat from coconut oil, this sweet treat checks all the boxes. FYI, once you get used to what real chocolate tastes like it's hard to go back to most store bought chocolate bars  with all the preservatives, chemicals and fillers. Blow your guests away, these are conversation piece.
1 cups Almond butter (or your choice of nut or seed butter)
1 cups Coconut oil (raw. organic and unrefined)
1/3 cups Raw cacao powder
2 tbsp Maple syrup
3 tsp Raw cacao nibs
3 tsp Goji berries
1/4 tsp Salt
Cream almond butter, coconut oil, maple syrup, cacao powder and salt together. Pour mixture into a parchment paper lined small baking dish (8X6). 

 Top with cacao nibs and goji berries and freeze at least 2 hours. Remove from freezer and carefully lift fudge off parchment paper.

Cut in squares or for fun use cookie cutters and cut into seasonal shapes—hearts for Vday, stars for the winter holidays, etc.