Spicy Roasted Cauliflower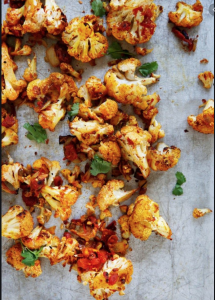 This dish rocks. I love everything Morocco so I am not surprised I was this wowed by this colourful dish. Onions, raisins, hot chili sauce, cumin, parsley, cilantro and chickpeas serves up a veggie-packed, anti-oxidant-laden, spicy and protein-infused side dish. The meaty texture of roasted cauliflower will once again impress the meat lover at the table. Serve with a salad as dinner, or as a side with any white flakey fish.
Juice from 1 lemon
3 tbsp Raisins
1 tbsp Harissa (Tunsian hot chili sauce)
1 head Cauliflower (cut into bite sized florets)
2 cups Cooked chickpeas
1 Sweet onion (sliced thin)
1 tbsp Olive oil
1 tsp Cumin seeds
1/2 cups Italian parsley (loosely packed, finely chopped)
1/2 cups Cilantro (loosely packed, finely chopped)
Salt and pepper to taste
Preheat your oven to 400F and set out a large baking sheet.

Add lemon juice, raisins and harissa to a small bowl. Set aside.

In a large mixing bowl, add cauliflower florets, cooked chickpeas, onion, oil and cumin seeds to and stir with your hands to coat all pieces. Transfer to a baking sheet and roast veggie mixture for 30 minutes, until cauliflower tops are lightly browned. Allow to cool.

Mix roasted veggies, parsley, cilantro and soaked raisins with juices together and stir to coat. Salt and pepper to taste and serve.