The Love Smoothie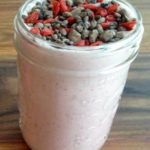 Love. I love this smoothie. This light pink drink has everything you need. It has the taste and all the nutrients to keep you going all day—protein, calcium, omega 3s, magnesium, potassium, antioxidants, fiber, Need I say more, Oh yes…Mood enhancers. Love that cacao. Love that maca. Crazy libido, I mean energy, enhancing effects.
Great everyday, fun for Vday. Love it up as much as I do.
1-2 Kale or spinach leaves. Not many as I don't want colour changing.
1 cup organic strawberries, frozen is fine too.
1 Frozen banana
1 tbsp Maca powder (Careful with this. Not good for kids or those with super sensitive systems. Could have espresso-like effects in some.)
1 tbsp Hemp seeds
1 tsp Chia seeds
1-2 dates, for extra sweetness. Leave out if you prefer not as sweet.
1 1/2 cups plant based milk
Goji berries and cacao nibs
Blend together until smooth … Top with goji and cacao nibs for extra nutrient punch and a lots of loving pizazz.