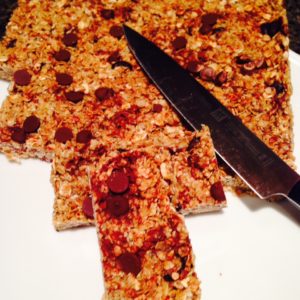 School Friendly Granola Bars
I know make your own granola bars … but when you see how easy these no bake bars are you will NEVER EVER buy the proccesed ones again. I love this super easy—this literally take less than 15 minutes to prep, super delicious, super healthy SCHOOL friendly granola bar.
High in antioxidants, fiber, zinc, healthy fats (the only thing missing in a little leafie green (do I dare?) these sweet treats have the child in mind, but keeps this momma happy too. Chia gives these crunchy munchies an omega and protein boost.
Ingredients
2 1/2

cups

Rolled oats

1/2

cups

Raw organic pumpkin seeds

ground

1/3

cups

Honey

1

tbsp

Butter

3

tbsp

Coconut oil

1/4

cups

Coconut sugar

1/2

tsp

Vanilla extract

2

tbsp

Chia seeds

1

pinch

Salt

1/3

cups

Organic dried cranberries

or your favourite dried fruit

1/4

cups

Organic chocolate chips
Instructions
Preheat oven to 375. Process pumpkin seeds until gritty consistency. In baking pan add rolled oats and ground pumpkin seeds. Toast 10-12 minutes, until fragrant. Shake pan and toast 2 more minutes.

While oats and pumpkin are in oven, add honey, butter, coconut oil, sugar and vanilla to small saucepan and melt everything down. Just melt and be careful not to burn.

Add oats and pumpkin mixture to mixing bowl and then add butter mixture. Add salt, dried fruit and chia. Mix until well combined. Allow to cool 3 minutes.

While cooling, line a square baking pan with tin foil. Lightly coat tinfoil with coconut oil (as not to stick). Parchment paper works to.

Add chocolate chips to mixture and stir until evenly combined. (It's OK if they melt a little). Using hands press mixture down onto baking pan evenly. Take additional chocolate chips ad sprinkle on top. Press down one more time evenly.

Cover and refrigerate for at least 2 hours. Peel off foil and cut into bite or bar size pieces. Will store for up to a week or individually wrap and freeze.