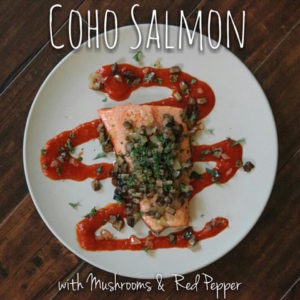 Salmon With Red Peppers And Mushrooms
Just enough flavor and substance to satisfy my appetite, this quick and easy dish is loaded with healthy omega-3 fatty acids that will definitely impress your dinner guests. Serve with a salad and done.
Ingredients
2

Large red bell peppers

3

tbsp

Fresh lemon juice

5

drops

Stevia

1/2

tsp

Celtic sea salt

2

tbsp

Olive oil

1

Small onion

diced

6

OZ

Shitake mushroom

sliced

4

Salmon filets

6 OZ each

Parsley

minced
Instructions
Pepper Puree:

Place peppers in a baking dish in the oven at 350°

Roast for 10-20 minutes, until skin begins to shrivel

Allow peppers to cool, remove stems, then slit open and remove seeds

Place peppers, lemon juice, stevia and salt in a blender and puree until smooth

Transfer pepper mixture to a small sauce pan and warm slightly

Mushroom Mixture

Place the oil in a sauté pan over medium heat

Add the onion and sauté for 1 minute, then add the mushrooms

Reduce heat, cover and cook for 10 minutes

Salmon Preparation

Turn oven on to 500°

Leave the skin on the fish; rinse and pat dry with paper towel

Place fish skin side down on a metal baking sheet

Rub fillets liberally with olive oil, then sprinkle with salt

Reduce oven temperature to 275°, then put sheet with salmon on lowest rack

Roast 8 to 13 minutes, so that centers of thickest part of fillets are still translucent when cut into with a paring knifeTo serve, pour the puree and the mushrooms over the salmon

For a fancier presentation, pour the puree onto the plate, and then place the salmon on the puree and top with the mushroom mixture. Enjoy!