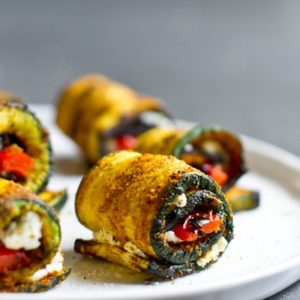 Rolled Roasted Zucchini Bites
These are a serious hit. Of course, I love them for their heavy hit of Tumeric. Double this recipe as I budgeted 2-3 per person at my party and they were gone within 5 minutes. These nutrient-dense, Vitamin C-and-antioxidant-packed roll ups were the hit of the night. NOTE: Goat cheese is a way easier dairy to digest. It doesn't irritate your gut as cow dairy does. So on occasion, it is a fabulous treat. Enjoy.
Ingredients
2

Medium zucchinis

1

Large red pepper

3

OZ

Creamy goat cheese

1

tbsp

Curry powder

1

tsp

Oregano

1/2

tsp

Garlic powder

1/2

tsp

Garam masala

1/4

tsp

Turmeric

Salt and pepper

Olive oil
Instructions
Preheat grill to 350-400 degrees or medium-high. Once hot, quarter red pepper and sprinkle with  oil and place it on the grill until soft and lightly charred.

While the pepper is cooking, mix the spices together in a small bowl.

Trim the ends and slice your zucchini lengthwise into about 1/8-1/4 inch thick slices.

Lightly coat all of the zucchini strips in oil on both sides and then rub the spice mixture onto both sides of the strips.

Sprinkle one side generously with salt and pepper.

Place the strips on the grill in a single layer for 5-7 minutes.

Flip and grill the other side for another 3-5 minutes.  You want them golden brown and slightly charred. Take the zucchini off the grill and let cool on a wire rack.

Slice cooked pepper. Strips should be as wide as zucchini.

Once zucchini cooled, sprinkle with goat cheese down the length of each strip and place one slice of roasted pepper at the end.

Wash your hands to avoid goat cheese all over the outside of the rolls, then roll the strips and place seam side down. Salt and pepper.