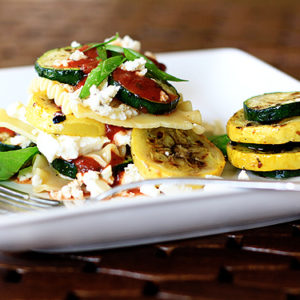 Roasted Veggie Lasagna
This is so easy, super fast and high on the yum factor. It's nutrient dense and delicious. Love this for summer, when veggies are fresh from garden or farmers market. It's an easy recipe to get creative with and throw in your faves.
Ingredients
1

cups

Ricotta cheese

1/3

cups

Sun dried tomato basil feta cheese

3

tbsp

Olive oil

8

Lasagna noodles

multi-grain, broken into thirds, cooked according to package instructions and drained

1/2

cups

Tomato basil spaghetti sauce

1

Zucchini

sliced

1

Red onion

sliced

1

Yellow squash

sliced

1

Red pepper

sliced

2

tbsp

Balsamic vinegar

12/

cups

Basil leaves

torn
Instructions
Stir together the ricotta, feta and olive oil, and salt and pepper to taste. Set aside.

Toss the zucchini and squash with 2 tablespoons of olive oil. Roast veggies until a bit of brown.

Remove and toss with balsamic vinegar. Salt and pepper, to taste.

Layer one noodle, a spoonful of ricotta mixture, veggies and a drizzle of sauce.

Repeat layering twice. Drizzle a little more olive oil on top. Garnish with basil and feta. Serve.