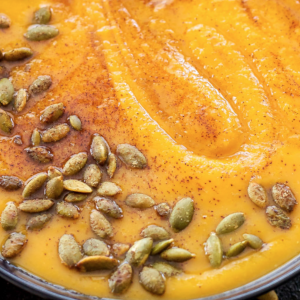 Roasted Butternut Squash Soup
So I have never been a big squash eater. I know, how could I not be with the gourd's bursting antioxidant and phytonutrients content (hello beta carotene, not to mention crazy high fiber and potassium. But I played around and created this insanely delicious creamy soup the entire family can not get enough of. I particularly love this soup on cool nights served with a salad. This soup also works on any elimination diet. It's vegan, dairy and gluten free. Need I say more? Yes, double the recipe. You will want leftovers.
Ingredients
Olive oil

1

Butternut squash

halved and seeded

1

Onion

diced

4

cloves

Garlic

chopped

4

Carrots

chopped into cubes

1

thumb

Fresh ginger

peeled

1

cups

Organic low sodium vegetable broth

1

cups

Organic unsweetened coconut milk

1

tbsp

Cumin

Salt and pepper

to taste

Cilantro and hot chili flakes
Instructions
Slice squash in half lengthwise and deseed. 

Place on baking sheet and drizzle with olive oil and sprinkle with sea salt salt. Place in over at 350F for about an hour. (This can be done ahead of time as well.)

While squash is roasting. Sautee onions and garlic in medium pot in olive oil until translucent.

Add carrots, cut and peeled ginger and 1/2 broth and simmer for 15-20 minutes, until carrots are soft. Salt to taste. Add cumin.

Stir and cover on low. When squash is soft all way throw thickest part take out from oven. Let cool 3 minutes, or enough so you don't burn yourself.

With a spoon scoop out fresh from outer peel. Yum. Add to carrot, onion mixture. Stir together.

Add rest of broth. Transfer to blender and puree until smooth. 

Transfer back in pot and add coconut milk. Stir and simmer 2 minutes. Garnish with cilantro, pumpkin seeds, pepper, chili, dash of cumin.