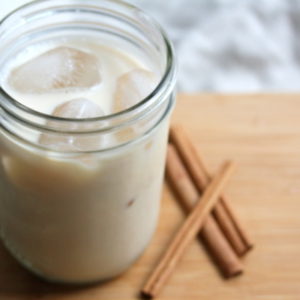 Red Rooibos Latte
Sometimes I just need something sweet and comforting in the morning. And yes, I admit it, sometimes I will have coffee. But since I have self sabotaged any hankering for coffee as I make hands down the worst coffee in house, I enjoy a good Rooibos latte on occasion. Rooibos is made from a South African plant, and is an antioxidant-filled, caffeine-free alternative that blends oh-so-well with so many flavours. This is a fav in my house. Yummy iced too.
Ingredients
1/2

cups

Strong brewed tea

(vanilla rooibos is my favourite)

1/2

cups

almond milk

1/2

tsp

Honey

or alternative sweetener

1/4

tsp

Vanilla extract

1

dash

Cinnamon
Instructions
Brew a strong half cup of tea, either with freshly boiled water or through an espresso machine.

Heat and foam the almond milk using a milk frother . Almond milk gets a pretty generous foam – better than rice milk from what I've tried. Don't even go there with soy.

Stir the honey and vanilla into the tea, pour the hot milk over, and top with the foam. A dash of cinnamon adds the finishing touch. 

Let cool and pour over ice for a summery iced Latte.