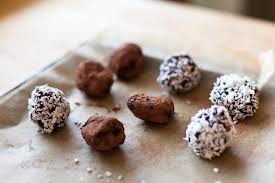 Raw Cacao Bliss Balls
Ok, so if you are looking for your chocolate phix, this is seriously it. And since these superfood wonders are so incredibly rich, you really can't eat more that 2, OK, max 3! But fear not, even though these delectable mineral rich morsels—iron, magnesium, phosphorus—are high in fat, it is the healthy fat. The healthy fat that keeps us satiated and trim, the healthy fat that speeds up our metabolism. This is the healthy fat that lowers cholesterol. Did I mention the huge antioxidant factor. So if you must indulge, this is it.
Makes a dozen inch-sized truffles. And takes 5 minutes!
Ingredients
2

cups

Coconut

organic and shredded

1

cups

Coconut oil

organic and unrefined

2

pinches

Salt

1/2

cups

Raw cacao powder

Couple dashes of cinnamon

3

tbsp

Maple syrup

or more if you want sweeter

1/2

tsp

Vanilla
Instructions
In medium bowl mix coconut oil and shredded coconut. Mix until well blended. There shouldn't be any clear white oil bumps.

Add raw cacao, salt, vanilla, cinnamon and maple syrup. Stir until well combined. Add more syrup if not sweet enough.

Roll into quarter size inch balls. Optional: Roll balls in shredded coconut.

Chill for 30 minutes before serving.