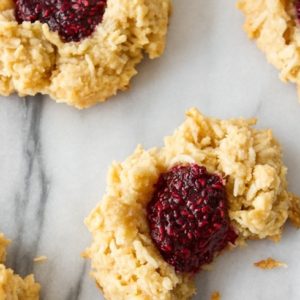 Raspberry Bird's Nests
This one is for my dad … It's a holiday tradition when I return to NY for Chrismakah. My dad has a serious sweet tooth. And he loves the classic Bird's Nest cookie. After his scare with cardio disease, I gave my father's X-mas Eve Santa Cookie a Nourished makeover. Needless to say he likes these even better. He has no idea they are actually good for him. I love that. Don't you?
Ingredients
1 1/2

cups

Flaked coconut

unsweetened

1

cups

Almond flour

Sea salt

1/2

cups

Pure maple syrup

1/4

cups

Coconut oil

1

tsp

Pure vanilla extract

3

cups

Frozen raspberries

1/4

cups

Pure maple syrup

2

tbsp

Chia seeds

1

tsp

Pure vanilla extract
Instructions
For the chia seed jam: Add frozen raspberries and maple syrup into a medium pot and simmer. After 5 minutes or so, stir in the chia seeds. Cook mixture for about 15 minutes until thickened. Remove from heat and stir in vanilla. Chill in the fridge.

Preheat oven to 275F and line a baking sheet parchment paper or grease with coconut oil.

In large bowl, combine the coconut, almond flour and salt.

Add maple syrup to softened coconut oil and vanilla into the dry mixture and stir very well until combined. The dough will be sticky.qDrop a rolled teaspoon of dough onto the baking sheet. Press a well into the middle and lightly shape the outsides if necessary. Repeat for the rest. Fill each well with jam.

Bake at 275F for 20 minutes. Rotate the pan and bake for another 10-20 minutes  until the bottoms are lightly golden and browned. Watch closely. Let cool completely.