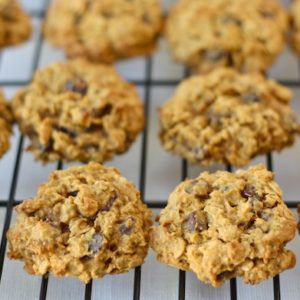 Pumpkin Oatmeal Cookie
These cookies have all of my fav ingredients-pumpkin, oatmeal, Fall spices, dried cranberries and of course dark chocolate chips. Yes they are a treat, but they are a healthy one that I indulge in for fall. And I don't feel bad about it either. They are packed in fiber, protein and omegas and as low in sugar as a good cookie can get. Coconut oil replaces butter so you are actually getting the healthy fats our bodies need instead of pure saturated fat form butter. Enjoy. They are fantastic frozen too.Gluten-Free Version: Omit whole wheat flour and add 1/2 cup more of oats and quinoa flour.
Ingredients
1

cups

Whole wheat flour

1

cups

Quinoa flour

1

tsp

Baking soda

1 1/2

cups

Old fashioned oats

1 1/2

tsp

Ground cinnamon

1/4

tsp

Ground ginger

1/8

tsp

All ground cloves

1/2

tsp

Kosher salt

1

cups

Coconut oil

1

cups

Coconut sugar

1

cups

Pure pumpkin puree

1

Large egg

1

tsp

Vanilla extract

1

cups

Dark chocolate chips

1

cups

Dried cranberries
Instructions
Preheat oven to 350 degrees. Line a large baking sheet with parchment paper or a silicone baking mat. Set aside.

In a medium bowl, whisk together the flours, baking soda, cinnamon, ginger, cloves, and salt. Set dry ingredients aside.

In a large mixer bowl, beat coconut oil and coconut sugar until light and fluffy. Add pumpkin, egg and vanilla. Beat until combined. Gradually add flour mixture and mix.

Stir in oats, chocolate chips and dried cranberries. Drop cookie dough onto prepared baking sheet.

Bake cookies for about 12 minutes or until lightly browned. Cool on baking sheets; remove to wire racks to cool completely.