OMG Cilantro Spread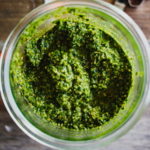 Loaded in iron and a crazy diversity of antioxidants, not widely found together in food, pumpkin seeds are one of those foods that you can throw on and in virtually everything to spruce up flavour and nutrition factor. This cilantro spread has both, big time. Use it as a spread for bread and avocado, as a sauce on top of any grilled veggie, mixed in with quiona, thinned out as a salad dressing, as an incredible fish, tofu or chicken marinade. Uses are limitless. Easy to make and easier to store. So make enough for a week and keep inside the fridge. You will be pulling it out every meal!
3 cloves Garlic
1/2 cups Toasted pumpkin seeds
2 tsp Pink sea salt
1 Jalapeno (keep seeds in for more spice)
1/4 tsp Chili powder (to taste)
4 packed cups Cilantro (stem is fine)
Juice of 2 large limes
1/3 cups Olive oil (extra virgin, or a mix of oils)
Water
Process the garlic, toasted pumpkin seeds and sea salt in a food processor to chop. 

Add the jalapeno, chili, cilantro and lime juice. 

Drizzle in the olive olive and a splash of water. Taste and adjust as you wish.'

Garnish with cilantro and basil leaves.