Dairy-Free Egg Nog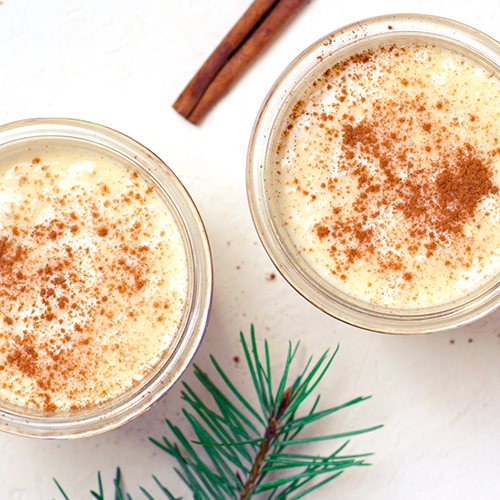 Eggnog is a thing. I get that. Lots of people obsess over it and it's a make or break holiday thang. So if that's you, you must try my rendition. This eggnog is half the calories and fat with all the flavour without any of those nasty preservatives and chemicals. A short ingredient list, a simple process and the end result is superb, nourished up and way less filling than the store-bought version.  No filler, no chemical. Just 100% goodness. All you have to do is add your rum! Yes, here's to a healthier holiday!
2 1/4 cups Almond milk
400 ml Full-fat coconut milk (1 can)
1/4 cups Coconut sugar
2 tsp Pure vanilla extract
1/2 tsp Ground nutmeg
1 pinch Allspice
1 tsp Ground cinnamon
Combine almond and coconut milks and rest of ingredients in a medium sized saucepan and bring to a simmer on medium heat.

Remove from heat and serve immediately … with rum or without; or pour in a mason jar and refrigerate for later use.

Best sprinkled with a touch of ground cinnamon or stick and nutmeg!