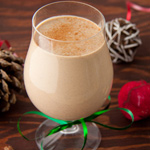 Dairy-Free Egg Nog
For those of you who like like your eggnog … This is the bomb. Minus probably about half the calories. The process is simple enough, the ingredient list is short, and the end result is superb and so much healthier than the store-bought version. As you can see, you know every single ingredient. No filler, no chemical. Just 100% goodness. All you have to do is add your rum!
Ingredients
4

Egg yolks

2 1/4

cups

Almond milk

400

ml

Full-fat coconut milk

1 can

1/4

cups

Coconut sugar

2

tsp

Pure vanilla extract

1/2

tsp

Ground nutmeg

1

pinch

Allspice

1

tsp

Ground cinnamon
Instructions
Separate the whites from yolks.

Place egg yolks in a small mixing bowl and set aside.

Combine remaining ingredients in a medium sized saucepan and bring to a simmer on medium heat. Reduce heat to low.

Slowly add approximately 1/4 cup of the hot liquids to the egg yolks while whisking continuously. Continue until you've added about one cup of the liquid mixture to the egg yolks before transferring the yolks to the pot.

Bring back up to medium heat and whisk while simmering for 4 minutes.

Remove from heat and serve immediately or pour in a mason jar and refrigerate.

Best sprinkled with a touch of ground cinnamon and nutmeg!