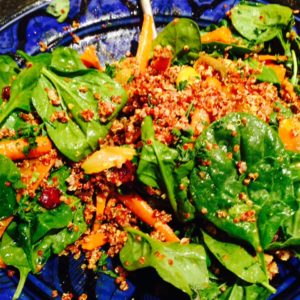 Moroccan Spiced Quinoa
Don't let the long ingredient list scare you. These spices should become pantry staples anyway, especially turmeric. The flavour is divine and worth every screw top. This salad is a great side with a simple white fish or a healthy, protein-and-green packed lunch. I love, love this dish and crave it often. You will too, trust me.
Ingredients
2

tsp

Sweet paprika

1

tsp

Ground cumin

1

tsp

Ground ginger

1

tsp

Ground coriander

1

tsp

Turmeric

1

tsp

Ground cinnamon

1

tsp

Cayenne pepper

1/4

tsp

Ground cardamon

4

Large carrots

thinly sliced lengthwise

1

Small red onion

thinly sliced

7

tbsp

Olive oil

extra virgin

1/2

cups

Walnuts

1/2

cups

Cranberries

unsulphured

1

cups

Red quinoa

2

cups

Water

2

tbsp

Fresh lemon juice

2

cups

Spinach leaves

1/2

tsp

Lemon zest

finely grated

1

tsp

Dijon mustard

2

tbsp

Flat leaf parsley

chopped
Instructions
Preheat the oven to 400°.

In a small bowl, whisk the paprika with the turmeric, cumin, ginger, coriander, cinnamon, cayenne, cardamom and teaspoon each of salt and black pepper.

In a medium bowl, toss the carrots with the onion and 2 tablespoons of the oil. Add 1 tablespoon of the spice mix and toss to coat. 

 Spread the vegetables on a rimmed baking sheet and roast for 20 to 25 minutes, stirring once or twice, until tender.

Meanwhile, toast walnuts until fragrant. Let cool, then coarsely chop.

In a medium saucepan, combine the quinoa with 2 teaspoons of the spice mix and the water and bring to a boil. Cover and simmer over low heat until the water is absorbed and the quinoa is tender, about 15 minutes.

Uncover, fluff with a fork and let cool slightly.

In a large bowl, whisk oil with lemon juice, zest, mustard and 1-2 teaspoons of the spice mix; season with salt pepper. Add the quinoa, walnuts, cranberries, parsley and roasted vegetables and toss well. Add the salad greens and toss lightly.