Mexican Lentil Soup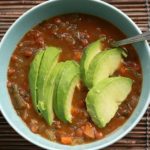 I know I say this often, but this soup is so easy, so hearty, so delicious that I just really don't get the "I don't have time to be healthy" complaints. Made with basically pantry staples, this weeknight dinner is loaded in antioxidants, protein, fiber, flavour and flair. Double and freeze!
2 tbsp Coconut olive oil
1 cups Yellow onion (diced)
1/2 cups Celery (diced)
1 cups Carrots (diced)
2 cloves Garlic (minced)
1/2 cups Lentils (rinsed and drained)
6 cups Vegetable or organic chicken broth
1  14 OZ jar crushed tomatoes
1/2 Jalapeno pepper (seeded and minced)
1/2 tsp Ground cumin
1/2 tsp Ground coriander
1/2 cups Fresh cilantro (chopped)
Avocado (optional)
Goat cheese (optional)
Squeeze of fresh lime (optional)
In a large pot, HEAT coconut oil over medium heat.

ADD onion, celery and carrots.

COOK until tender, 8-10 minutes.

ADD garlic and cook 1 minute.

ADD the lentils, vegetable broth, tomatoes, jalapeno, cumin, coriander, salt, pepper and cilantro.

SIMMER for 20-25 minutes.

GARNISH with sliced avocado, lime and goat cheese (optional). Enjoy!