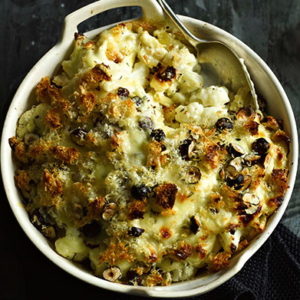 Mac And Cheese, Nourished Up
We still use a bit of dairy, but halved the cheese by incorporating nutritional yeast into the recipe. Nutritional yeast is packed in B-vitamins, folic acid, selenium, zinc, and protein and is gluten-free (check specific brands for certification), and contains no added sugars or preservatives. And is it ever tasty, cheesy and savoury. So this dish is bursting in flavour, phyto-nutrients and nutrition with half the saturated fat as the traditional take.
Ingredients
12

OZ

Multigrain elbow pasta

1

head

Cauliflower

finely chopped

2

cups

Brown rice crumbs

2

tbsp

Ground chia

1/2

cups

Parsley

chopped

3

tbsp

Olive oil

1/2

cups

Nutritional yeast

I like red star brand

1

Onion

chopped

1

cups

Extra sharp cheddar

grated

1/2

cups

Non fat greek yogurt or plain unsweetened almond milk yogurt

1/2

cups

Unsweetened almond milk

1

tbsp

Dijon mustard

Salt and pepper
Instructions
Heat oven to 400° F. Cook the pasta according to the package. Adding the cauliflower for last 3 minutes of cooking; drain and set aside.

Mix brown rice crumbs/chai mix with parsley, 2 tablespoons of the oil, salt and pepper.

Return the pasta pot to medium heat and add the remaining tablespoon of oil. Add the onion, salt and pepper until soft, 3 minutes.

Mix in the pasta and cauliflower and the cheese, nutritional yeast, yogurt, almond milk and mustard.

Transfer to a shallow 3-quart baking dish, sprinkle with the crumb mixture, and bake until golden brown, 12 to 15 minutes.