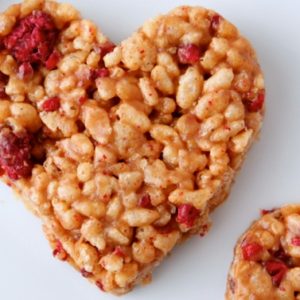 Luv-Krispy Rice Treats
I show love by Nourishing you and all the people in my life. Cooking and preparing healthy food for me, is how I give love. These little heart crispy treats are just a cute expression of love on Valentines Day. My girls and I make these and we have fun making and eating up the mess. Great after school snacks too.
Ingredients
1

cups

Brown rice syrup

1

cups

Favourite organic nut or seed butter

4

cups

Organic crispy brown rice cereal

1

cups

Freeze dried raspberries or strawberries

1/3

cups

Goji berries

1/4

cups

Dark chocolate morsels
Instructions
In large bowl, combine the rice crisps, goji berries and the freeze dried fruit. (And optional chocolate). 

In a large sauce pan, heat brown rice syrup and peanut butter over low heat and whisk until melted and combined, about 2 minutes. Remove sauce pan and pour over rice crisps in a large bowl.

Stir until combined. Pour into a greased 8 x 8 inch pan and press down to flatten the top. 

Cool for 10 minutes in fridge. 

Using a sharp heart cookie cutter, press firmly down and lift. Pop heart out. Roll remains of heart into balls and serve on side.