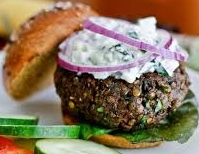 Lentil Burgers
Small but mighty, lentils top the fiber-rich charts and also provide folate, magnesium and antioxidants, with few calories. So you can't get any more packed into this great source of meatless protein. Serve traditional burger style, Greek style with Tzatziki and feta cheese, topped on a salad or with whatever sauce the kids like to dip. Double and freeze as these make a perfect snack.
Ingredients
1/2

cups

Dried lentils

black or green hold their shape best

2

tbsp

Olive oil

1

Small onion

chopped

1/2

Red bell pepper

diced

4

cloves

Garlic

minced

15

OZ

Chickpeas

1 can, rinsed, drained and cooked

1

cups

Parsley leaves

loosely packed

2

Large eggs

2

tsp

Ground cumin

1

tsp

Ground coriander

1

tsp

Salt and black pepper

1

cups

Gluten free breadcrumbs

Mary's or brown rice crumbs

3/4

cups

Grated carrots

1/2

tsp

Baking powder
Instructions
Cook lentils according to package directions. Drain.

Heat oil in skillet over medium heat. Add onion and bell pepper, and sauté 7 minutes. Stir in garlic. Then blend.

Blend chickpeas, parsley, olives, eggs, cumin, coriander, salt and pepper in food processor until smooth. Add chickpea mixture into onion/pepper/garlic mixture and then add breadcrumbs, carrots and baking powder. Stir all into lentils. Shape into patties. Heat Olive Oil in Pan. Make really hot. Place burgers in pan. Cook till brown and fragrant about 5 minutes. Flip and do other side for about 3 minutes.

Or preheat oven 350; Line baking sheets with parchment paper. Cook 6 minutes, flip for 3 minutes. Great both ways.