Lentil And Walnut Salad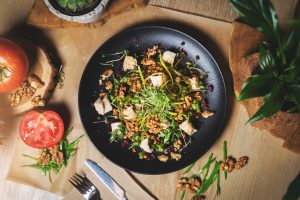 This salad offers phytonutrients, great protein, iron and Omega-3 essential fatty acids which are necessary for brain and skin health. They also provide excellent fiber keeping you full longer and helps the body to remove excess cholesterol. This is the kind of recipe my clients love to add to their detox or cleansing routines. It tastes so good, it makes eating healthy addictive.
1 1/2 cups Brown lentils (cooked, cooled and drained)
1/4 cups Green onions (sliced, green parts only)
1 cups Baby spinach (thinly sliced)
1/2 cups Cherry tomatoes (halved)
8 Kalamata olives (pitted and roughly chopped)
1/4 cups Walnuts (chopped)
2 tbsp Olive oil (extra virgin)
1 tbsp Balsamic or umeboshi vinegar
1 tsp Dijon mustard
1 tsp Cilantro, fresh mint or both (chopped)
1 clove Garlic (crushed)
Salt and pepper
Any other veggies (chopped into bite sized pieces)
COMBINE lentils, green onions, spinach, tomatoes, olives, and walnuts. MIX well.

In small bowl, WHISK oil, vinegar, mustard, herbs, garlic, salt and pepper together. POUR over lentil salad and mix well.

ALLOW salad to set at room temperature for at least 20 minutes, stirring a few times before serving.`

*Refrigerates for up to 3 days for picnics and lunch leftovers!