Kale Tagine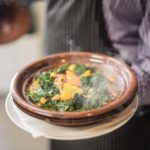 This is inspired from my Superfood Series: Get Your Green On, where we cooked 5 dishes with a focus on green leafies. This traditional take on a sweet Moroccan classic is super easy, bursting with flavour and loaded in health boosting spices like turmeric and ginger. And of course the super powerful and all mighty Kale. You can make it in a simple pan with a cover, made more traditional in a Moroccan Tagine. (Available in most specialty kitchen stores.) Serve over quinoa with a green salad and dinner is divine. Optional to add cubed tofu or chicken.
1 cup Chickpeas (cooked)
1/2 Onion (diced)
2 cloves Garlic (crushed)
1 tbsp Turmeric

2 pinches Saffron

1 tsp Coriander, or 1/4 chopped cilantro
Juice of a whole orange
3-4 Figs (dried, unsulphured and diced)
1 tbsp Orange zest
1 1/2 cups Kale (chopped)
Salt and pepper (to taste)
1 Red bell pepper
1 cup Cauliflower
1 cups Tofu or chicken (cubed, optional)
Heat Olive oil in Tagine on stove and add onions until translucent. If you are adding tofu or chicken, add now and cook 5 minutes. Add garlic.

Add all spices and cook until fragrant—3 minutes. Add chick peas and dried fruit. Cook for another 3 minutes.

Add pepper and cauliflower. Cook 10 minutes.

Add kale, orange zest and juice. Cover tagine and simmer on low for 5 minutes or until kale is cooked.

Transfer to a bowl or atop quinoa and sprinkle with salt and pepper.