Kale And Walnut Pesto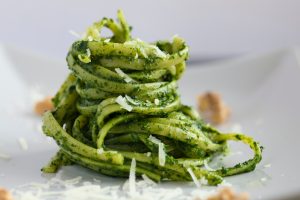 I know more kale, but I told you I just can't get enough. I try to eat greens at every single meal.  Did you know that greens are the #1 most important food and the most missing food from our diets? Well not anymore!
It's the most versatile superfood and this pesto is seriously delish and dairy-free too. Use as a dip, marinade or sauce, it is the ultimate in decadence. 
1/3 cups + 2 tbsp Walnuts
1 cup basil
1 bunch Kale (leaves torn off stem)
1 cups Nutritional yeast
1 Clove Garlic (minced)
Salt and pepper to taste
1/2 cups Olive oil
Juice of one lemon
3/4 lb Whole wheat or gluten free pasta
Heat oven to 350° F. Spread the walnuts on a rimmed baking sheet and toast, tossing occasionally, until fragrant, 6 to 8 minutes; let cool. 

Meanwhile, bring a large pot of salted water to a boil. Add the kale leaves and cook until bright green, 30 seconds. Transfer the kale to a colander, squeeze dry when cool enough to handle.

Process kale, nutritional yeast, lemon juice, garlic, walnuts and salt and pepper until finely chopped. With the machine running, add the oil.

Bring the reserved cooking water to a boil and cook the pasta according to the package directions. Reserve ½ cup of the cooking water; drain the pasta and return it to the pot. Add the pesto and ¼ cup of the reserved cooking water and toss to coat (add more cooking water if the pasta seems dry).