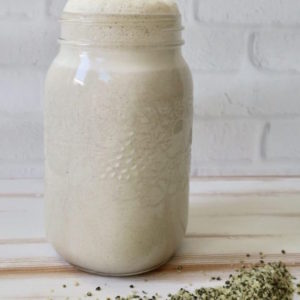 Hemp Milk- Allergy Friendly
OK, alternatives to dairy milk is clearly a must. Isn't it time we ditch the dairy? And as much as I love almond milk and other nut mlyks, you can not just whip them up in a pinch as they take a bit of preplanning and soaking. But hemp mlyk is a fast, easy and super delicious alternative for smoothie bases, with oatmeals, in chia bowls, coffees, warmed up at night for that tasty creamy drink. Not only is it easy, but hemp mlyk is a nutritional powerhouse loaded in those healthy omega fats,—the fats we need—proteins, vitamins B, A, E and minerals like calcium, potassium, magnesium, and zinc to name a few. Need I say more? Get blending. This one may just change your life. Try this nut-free and allergy friendly milk recipe now.
Ingredients
1/4

cups

Hemp seeds

3

Dates

pitted (optional for sweetness)

2-3

dashes

Cinnamon

3

cups

Water

1

tsp

Vanilla extract
Instructions
Add all ingredients to blender.

Blend until smooth, milky and creamy.
Click here for delicious dairy-free and gluten-free smoothies to make now with this hemp milk recipe!
Follow me on Instagram, Pinterest and LinkedIn for more easy, fun recipes and wellness tid bits!