Gluten-Free Protein Rich Brownies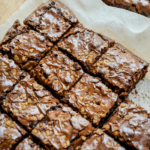 Ok, this is the bomb. Gluten-free and without any weird gluten-free, fake healthy fillers thanks to the use of amazing heart-healthy oats. This warm and gooey chocolate brownie is loaded in protein and antioxidants. Make sure you use high quality chocolate chips and this could be the yummiest and healthiest sweet treat I have made to date! Do I dare say?
1 1/2 cups Cooked black beans  (1 15 oz can drained and rinsed)
2 tbsp Raw cacao powder
1/2 cups Quick oats
2 Leaves kale (washed and dried)
1/3 cups Maple syrup
2 tbsp Unrefined coconut oil
2 tbsp Butter
2 tsp Vanilla extract
1/2 – 2/3 cups Chocolate chips
Preheat oven to 350 F. Combine all ingredients except chips in a good food processor or strong blender. Blend until smooth. A smooth texture is a must for best taste. Stir in the chips, then pour into a greased 8×8 pan. (I grease with coconut oil).

Optional: sprinkle extra chocolate chips over the top.

Cook the black bean brownies 15-18 minutes, then let cool at least 10 minutes before trying to cut. Makes 9-12 brownies.