Easy Pasta Tangy Greens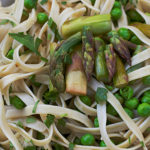 I love this easy, spring dish. Nothing brings out the freshness of seasonal asparagus and peas than lemon and garlic. Loaded with greens and medicinal garlic, this velvety dish is the perfect spring dinner. Easy to make gluten free as well, using brown rice or bean pasta.
6-8 stalks asparagus (trimmed)
1 cups favourite leafy greens
1 tbsp olive oil
3 cloves garlic (minced)
1 tbsp tahini
1 juice of a lemon (about two tbsp)
1 pinch coarse sea salt
2 cups water
6 OZ pasta of your choice
2 tbsp parsley, mint and basil (minced)
1 cups peas
Salt, pepper, and crushed red chili flakes (to taste)
Whisk tahini, 1 clove garlic, lemon juice and salt until smooth.

Rip kale into bite sized pieces and cut asparagus into 2 inch pieces.

Add olive oil to and rest of garlic to pan and sautee until soft.


Add all kale, peas and and asparagus.

Boil the pasta until it is al dente. Toss the cooked pasta with the asparagus, parsley, kale and peas.

Whisk in the tahini, garlic and lemon mix.

Garnish with chopped parsley, mint and basil.