Easy Black Bean Soup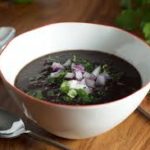 Love this easy pantry soup. High in fiber and loaded with antioxidants and just as good as a leftover lunch.
Make sure to plan ahead and allow time for soaking the beans. Serve with salsa and 100% corn chips, if you like.
1 lb Dried black beans (rinsed (about 2 1/2 cans))
2 Medium onions (chopped)
1 Large bell pepper (seeded and chopped)
4 cloves Garlic (finely chopped)
1 tbsp Ground cumin
1 tsp Ground chipotle pepper
2 tbsp Fresh cilantro chopped
2 tbsp Nutritional yeast
1 tbsp Fresh lime juice
1/2 Ripe avocado (chopped)
Soak the beans overnight or 6 to 8 hours prior to cooking. Drain and rinse.

In a large pot, bring 1/2 cup water to a simmer over medium-high heat. Add onions, bell pepper and garlic and cook, stirring frequently, until onions are translucent and beginning to brown, about 10 minutes.

Stir in cumin and chipotle and cook 1 minute, stirring. Add drained beans and 10 cups water. Bring soup to a boil, then lower to a simmer and cook, uncovered, for 1 1/2 to 2 hours, until beans are tender.

Remove 4 cups soup and carefully purée in a blender. Return purée to pot and stir in cilantro, nutritional yeast and lime juice. 

Spoon into bowls for serving and garnish with avocado.