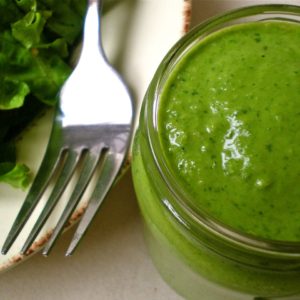 Creamy Parsley Dressing
Parsley is the easiest green to grow. You don't need to do much. Mine has been neglected for over a year. It never dies. The plant went dormant in winter and early spring up came beautiful bushels of green leafs. Not just garnish, parsley has some pretty potent nutrients—Vitamin C, B, K, Beta Carotene, Antioxidants, Folic Acid—to name a few.
So with the excess of parsley growing in containers on my patio, this creamy, zesty salad dressing, dip, fish topping is my latest addiction. And so heart healthy too.
Ingredients
1

cups

Parsley

2

cloves

Garlic

1

tbsp

Dijon

1

tsp

Maple syrup

1/4

cups

Apple cider vinegar

1/3

cups

Walnut, avocado, or pumpkin seed oil

or a mix of all

1/3

cups

Olive oil

Salt and pepper
Instructions
Combine all ingredients in blender, mix until smooth, creamy and beautifully green.

Makes about a cup. Keep in glass container in fridge for up to a week.