Chocolate Chia Pudding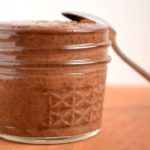 This superfood breakfast or dessert is loaded in protein, fiber, Omega 3s, iron, magnesium and more. Chia seeds are these magical little specs that contain more nutrients than pretty much any food. They also expand when they are in a liquid which is why they keep you full so long. They expand in your stomach and keep you satiated a long time—this is an ancient weight loss tool! Consistency does take a little while to get used to, but give it a try. I bet you'll love it like I do.
1 cups Almond or coconut milk
2 tbsp Chia seeds
1 tsp Cocao powder
1/4 tsp Cinnamon
1/2 tbsp Maple syrup (to taste)
sprinkle of salt
Mix all ingredients together. Chill in the fridge at least four hours. I usually chill overnight. (You might want to stir after the first hour just to make sure there aren't any clumps.).