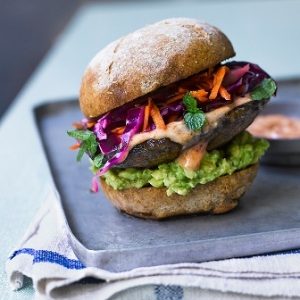 Best Mushroom Burgers Ever!
Yes, there are a lot of ingredients, but it takes a couple steps to make this mushroom burger mouth watering incredible. Steps are quick and easy so fear not and the only thing that has to be cooked are the mushrooms. You will never crave a regular hamburger again, I promise. These are super hearty and super healthy: Crunchy coleslaw is nutrient dense, mushrooms have medicinal qualities, avocados as healthy fats and whole grain/quinoa buns at even more fiber. But to really go for it, skip the bun and use collard leafs for that extra Nourished Bang.
Ingredients
4

Large portobello mushrooms

2

tbsp

Low sodium soy sauce/tamari

2

tbsp

Maple syrup

1

tbsp

Sesame oil

1

squeeze

Lemon or lime

Salt and pepper

2

Carrots

julienned

1

Small english cucumber

julienned

1/2

Small red onion

thinly sliced

2

tbsp

Tahini

2

tbsp

Rice vinegar

2

tbsp

Fresh mint

roughly chopped

1

Small bunch cilantro

roughly chopped

1/4

cups

Sesame seeds

white and black mix

2

Avocado

Sriracha

Multigrain buns

or use collard greens
Instructions
Wipe the mushrooms clean. Remove the tough stem. Preheat a grill pan to medium heat. In a shallow pan, mix together the soy sauce/tamari, maple, oil, citrus and salt and pepper. Add the mushrooms and rub the marinade into all of the surfaces. Let them soak for 10 minutes.

Put veggie threads in a large mixing bowl with the red onion. Whisk together the tahini, soy sauce/tamari, sesame oil and vinegar. Pour it over the vegetables and toss to coat. Add the chopped mint and cilantro and toss.

Grill the mushrooms for 5 minutes on each side until cooked throughout. Grill or warm the buns.

Burger Assembly: Smash half of an avocado on the bottom of the bun, top with the grilled mushroom and a big scoop of the asian slaw. Spread a bit of sriracha on the top side bun and enjoy.