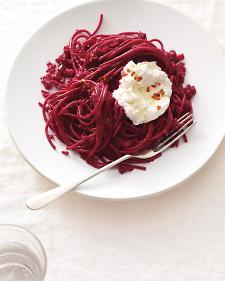 Beet Pasta
Ingredients
1

lb

Red beets

trimmed and scrubbed

1/4

cups

Olive oil

Coarse salt

1/2

cups

Toasted walnuts

1

tbsp

Chopped tomatoes

Red pepper flakes

12

OZ

Whole grain spaghetti or your favourite gluten free pasta

1/2

cups

Greek yogurt

plain non fat, optional
Instructions
Preheat oven to 425 degrees. Drizzle beets with oil and season with salt. Wrap tightly in foil and roast until tender, 1 hour. Peel and chop once cool.

Pulse beets, walnuts, and tomatoes in a food processor. Season with salt and red-pepper flakes.

Cook pasta in salted water according to package directions. Drain, reserving 1 cup water, and return to pot.

Toss with beet mixture, adding pasta water until creamy. Serve with plain non fat Greek Yogurt, a drizzle of oil, and red-pepper flakes.