Beautifying Hot Chocolate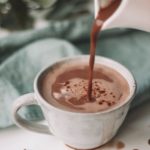 Ah, the power of the raw chocolate. It's an automatic feel good. Loving this antioxidant-rich, metabolism boosting beautifying elixir, oops I mean hot chocolate.  Rich in iron, fibre, magnesium and healthy fats, this sweet treat gives you a beauty boost, a nutrient boost and an energy fix any time of day. Adding a little collagen powder powers up the benefits.
NOTE: I double this recipe and fill an entire Vitamix container. I save the extra and have it in my fridge in glass jars for up to a week. So I get to enjoy it everyday.
3 cups Non-dairy milk (try this quick hemp mylk recipe)
1 tsp Maca powder
1-2 tsp Collagen
5 tbsp Raw cacao powder
1 tbsp maple syrup or Raw honey 
A couple dashes Cinnamon
1 dash Cayenne pepper
A pinch of salt
Blend everything in blender, warm on stove hot.

Enjoy slowly, without a task in sight. A good book, or you fav magazine will do.
Try these non-dairy alternatives for a unique flavour profile and why you should ditch the dairy.
Almond Brazilian Nut Vanilla Mylk
Check out these hot drinks to cozy up to on cold days:
Turmeric Sipper (Health in a Cup)