Thanxgiving Quinoa Salad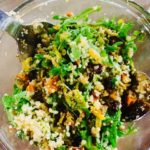 Gluten free and packed with antioxidants, protein, fibre, minerals, healthy fats, leafy greens and flavour, this is pretty much the main meal for me! I would definitely call this a one-pot wonder. It has become a staple on my holiday table and I have watched it crowd out the other—do I dare say—Thanksgiving culprits. It's even better the next day!
3 cups Quinoa
1 Large sweet potato (cubed)
2 cups Arugula (slightly chopped)
1/2 cups Pumpkin seeds
1/4 cups Cranberries (dried)
3 cups Brussels sprouts (shaved)
1 clove Garlic
2 TBLP Maple Syrup
1 tsp Cumin
1/2 cups Cilantro
1/2 cups Mix of olive oil and avocado oil
PREHEAT oven to 375. COOK quinoa.

MIX cubed sweet potatoes with olive oil, cumin and salt and pepper.

ROAST for 45 minutes or until brown flipping halfway. Meanwhile, SHAVE brussels sprouts.

TOSS in same bowl used for sweet potatoes.

ADD TSP olive oil, salt, pepper. MIX.

TRANSFER to pan and SAUTEE for 8 minutes until starting to brown.

ADD cooked quinoa to a large mixing bowl.

ADD cooked sweet potatoes and brussels sprouts.

ADD dried cranberries and pumpkin seeds.

In small bowl, WHISK together oils, apple cider vinegar, maple syrup and garlic.

POUR lightly over quinoa salad and MIX.

ADD salt, pepper and herbs. FOLD in arugula.