Miso Ramen with Shitake and Tofu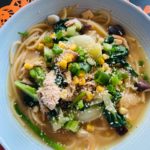 This Japanese noodle bowl is an amazing protein-packed quick meal. It is so comforting, full of greens and utterly delicious.
1 cup Corn kernels
1/2 Onion (diced)
2 cloves Garlic cloves (diced)
3-4 cubes Organic veggie bouillion
1 package Firm tofu (diced (If you want chicken, use 2 boneless chicken broths))
3 heaping fists dry ramen noodles or rice noodles
8 cups Water
10 Shitake mushrooms (cleaned and sliced)
10 Baby Bok Choy (sliced lengthwise)
2 cups Broccoli (cut in small florets)
6 Scallions (sliced)
4 tbsp Red miso paste
Sesame oil
Sesame seeds
Tamari
Sautee garlic and onion in olive oil in large pot.

Heat corn kernels and set aside.

In separate pot, cook the noodles in a boiling water for about 4 minutes. Drain.

Add water and veggie bouillon to garlic and onion mixture.

If you are using chicken, add chicken breasts here and cook through till chicken opaque inside.

Add mushrooms and tofu cubes. Simmer for a couple of minutes.

Add the bok choy, broccoli and the scallions. Simmer for a minute or so more, just long enough to bring out the bright green colour.

Turn heat off and stir in miso paste. (You do this with heat heat as not to destroy the beneficial bacteria in the miso paste.) Stir well until the paste is completely dissolved.

If using chicken remove breasts and shred.

Plate noodles in bowls.

Pour broth and veggies over noodles.

Garnish with corn.

Finish with a sprinkle of sesame seeds, dash of tamari and drizzle of sesame oil.